Heads In The Clouds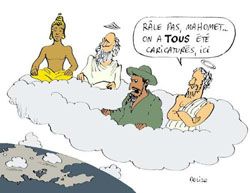 "Stop complaining, Mohammad ... we've all been caricatured, here."
According to this March 22, 2006
posting
over at
GM's Corner
, a Welsh clergyman got into trouble for publishing the above. In fact, the priest, the editor of a church magazine, resigned over this matter.
The purpose of the article was to encourage tolerance among the Abrahamic faiths—Judaism, Christianity, and Islam.
[Read the
Guardian
article
here
]